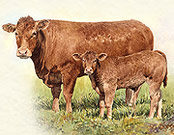 COW PICTURES
ALL THE POPULAR BREEDS
COMMISSIONS UNDERTAKEN PRIVATE & CORPORATE
Anthony Forster's Cow Pictures
Available as Limited Edition Prints
from
HOOD and BROOMFIELD ~ FINE ART PUBLISHERS
29 Albert Street, Newcastle-under-Lyme, Staffordshire ST5 1JP. England
Tel: 01782 626859






A few words from
Anthony Forster
Studios
§
These few pages are dedicated to the various breeds of livestock I've painted over the last five or six years.
Including Ayrshire, Limousin, Simmental, Charolais, Hereford, Belgian Blue, Guernsey, Jersey, Holstein, Friesian and also a few commissions which haven't appeared in print.
Cow Pictures, at the moment, account for over 75% of my total output. I will no doubt be painting cow pictures all through the summer months at agricultural show grounds from Cornwall to Edinburgh.
Look out for the marquee of Hood and Broomfield Fine Art..
at the SHOWS.
Warmest regards.

Click on any image for details of size and price.
For a complete list of Prices with links to every one of our
Cow Pictures
please go to
§
Cow Pictures List
§









If you like Cows and Cow Pictures, please make yourself at home,
here you are more than welcome, pull up a chair, relax.
If you want to talk about Cows I'd love to listen, if you have
any entertaining Cow stories you would like to see
published on this site send me an email.
Everyone knows how stubborn Aryshires can be, there must be a story
about the cow that wouldn't go through the gate,
or was so affectionate you had to sell it – c'mon don't be shy tell me a story.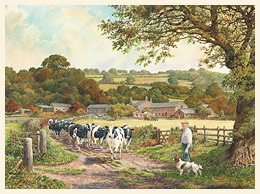 Farming Life :- and country ways hard work with harder won rewards – the essence of our agricultural heritage.
A herd of cows, a country lane, a favourite dog and faithful companion, sharp memories.
An ancient pole barn which has seen better days, home to the rusting memories of a lifetime.
These and similar images are the type of nostalgic ingredients often seen in the paintings of Anthony Forster.
Cow Lane :- This print touched the pulse of, not only, dairy farmers the length and breadth of the British Isles, but many who just love the countryside and rural scenes that are our agricultural heritage. It also sold well in many other countries too.
Now sold out, It has proved to be Hood and Broomfield Fine Art's all time fastest selling print.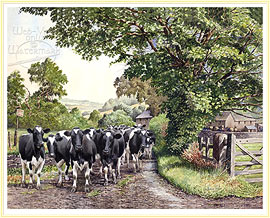 Cattle Crossing :- will it replace "Cow Lane"?
A herd of cows, a country lane, are these the timeless ingredients that bring back sharp memories?
A favourite cow or was it the feisty one? One of the followers or the one that has to lead the herd. Perhaps memories of better days, or a lifestyle too good to change? Memories of a lifetime.
These and similar nostalgic ingredients often seen in the paintings of Anthony Forster, give another dimension to the old saying "A cow picture is worth a thousand words"???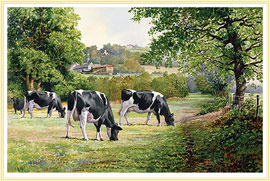 Summerhill Farm :- Our first cow print of 2007. It is bright and cheery with a fresh expectant feel of Summer.
The herd have just returned to the fields after the afternoon milking. The afternoon shadows are beginning to lengthen and cool the land, the herd leaders are moving into an area of fresh grazing.
This is a Cow picture to relax with.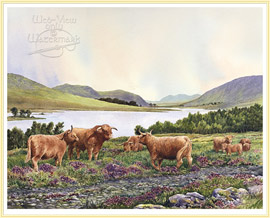 The Highlanders :-
Always a popular breed for the artist, and this painting, depicting a group of highland cattle on the shores of Loch Glascarnoch is also prooving to be popular with collectors.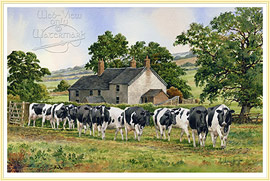 Leading Ladies :- This is our second Holstein print of 2007.
The herd leaders are moving off on their familiar daily stroll to the milking parlour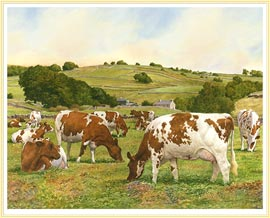 Dairy Maids :-
AYRSHIRE CATTLE. This very popular and attractive breed of dairy cow originates from Ayrshire in Scotland. Ayrshires have rich red brown markings on white. The red can be a paler brown/orange to an almost black dark brown, with or without coloured legs.
This will be our final print before Christmas 2007.
Order early to ensure your guaranteed delivery before the Christmas deadline.